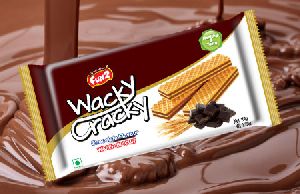 Wafer biscuits are favorite of all, right? But health watchers doubt their sweet contents to gain some extra body fats. In this article, we are going to discuss if it is healthy munching wafers or not. You will be surprised to know that you can have a 'wafer break' between your diet sessions as well. Its slight fat content is able to satisfy your sweet tooth.

Can you include wafer biscuits into your diet?
Health freaks often remain in search of such deserts which can fulfill their cravings as well as healthy. Wafer biscuits manufacturers in India provide different flavored wafers and among them vanilla and chocolate flavors have maximum admirers. These you can easily add to your daily diet plan.

Wafers are nutritious and those do not put harmful effects on health especially when you are dying to munch on something sweet. It is because these biscuits have very low fat content, and vanilla cream wafers include good calories and minimum fat contents.

But, if you are following a strict diet chart and close monitoring on what you eat, stick to only one vanilla wafer at a time. For a better effect, you may restrict yourself to half of it!

Wafer biscuits – a perfect mid-day meal!
As earlier said, if you love sweet dishes and specially wafer biscuits, try eating vanilla or chocolate cream wafers as they are low in fat. And, besides that, those will serve multiple purposes as well, such as satiating your sweet tooth and restricting you from gobbling some unhealthy snacks.

Wafers are light but they offer a filling effect on your stomach. It means, this tasty desert can stop you from overeating. So, whenever you go out, put some wafers in your bag! This will allow you keep your diet plan under control. And, enjoy some guilt-free munching on sweet vanilla wafer biscuits.

Waffles often make good contributions in preparing healthy deserts. You can experiment on the combinations of whipped cream and wafers to satisfy your taste buds. Even marshmallow cream goes well with waffles. Even diabetics are allowed to eat sugar free wafers so that no sudden hikes in their blood sugar level take place.
Waffles – How much to eat?
Homemade waffles are best to consume as you can customize the preparations in your way like replacing aata instead of maida as ingredients. And, if you have a waffle iron at home, you are good to go. Freshly baked wafer biscuits are great choice for consumption as they remain warm itself and you can enjoy munching on them with its irresistible aroma.

Uncomplicated recipe for the health watchers –
• Eggs
• Wholemeal flour
• Sugar
• Yeast
• Sugar
• Milk

You need to make a viscous and lump-free batter, and keep it aside for a couple of minutes. After the mixture is set, make your waffles at home. If you want, you can skip sugar or use some sugar-free replacements too.
Wafer biscuits manufacturers in India provide a range of options for every group of customers. Those are good to consume when cold too.
This entry was posted on June, 24, 2021 at 15 : 20 pm and is filed under wafers. You can follow any responses to this entry through the RSS 2.0 feed. You can leave a response from your own site.