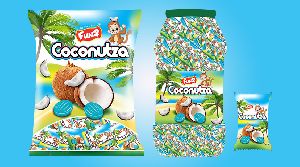 Biscuit is a small baked product primarily made up of flours, sugars and fats. Apart from these ingredients, there are other small ingredients that are also added for leavening, flavouring and texture. The different type tastes and textures are bound to delight which makes biscuits perfect for a wide range of occasions and appetites. Some of the varieties of biscuits are cream, nuts and ginger. Also these days salted biscuits are also available for people who are not allowed to include sugar in their diet. Biscuits are relished by children as well as adults as a perfect evening snack.

Cream biscuits not only taste delicious but are also a fun snack. The cream biscuits are typically referred to as the sandwich biscuits where the two crunchy biscuits are sandwiched with a mouth-watering cream. There is a wide range of yummy and natural cream biscuits available in the market in a wide range of flavours including chocolate, coconut, vanilla, orange, strawberry etc.

Confectionery items include candies, lollipops and toffees which are widely available in various shops, stores, bakery outlets, and other general shops. These are available in various eye-catching colors, like red, yellow, blue, pink, green, orange, and much more. These little assortments are available in different attractive shapes and sizes to tempt both children and adults.

Influence of packaging on Biscuits and confectionery items

In the growth of the biscuit market, introduction of new products every day and attractive packaging have a huge influence. An attractive packaging contributes to the sale of the product while the quality and taste of the product help to develop a constant market. Biscuits and confectionery exporters have started adopting new packing strategies with more convenient packs such as a smaller size of biscuits or candies as or multipacks. The small healthier size of biscuits and other confectionery products with reduced calories have attained preference among consumers. They make sure the packaging of the biscuits is proper in order ensure the crispness till it reaches the customers.

The production of biscuits and confectionery has been increasing as the demand for these products as a snack are increasing every day. In order to suffice the demand, there are many companies who are manufacturing and exporting biscuits and confectionery.

Biscuits and confectionery exporters should take due care of the following crucial points-

-They should quality raw material from the reputed vendors to manufacture healthy biscuits and delightful candies for their customers.
-They should be backed by great infrastructure and modern production units with the latest machinery.
-They should have a separate team of food technologists and R&D experts to understand the present needs and demands of the customers in order to add new flavours and value to their products.
-They should use hygienic and high grade packaging material.
-They should ensure timely delivery of the products worldwide.
-They should offer the biscuits and other confectionery items at a highly competitive rate.

Hence, it can be concluded that the confectionery market in India is expected to grow more in a couple of years, offering a wide range of biscuits, Candies, lollipops and toffees.